Published on
Websites You Should Have Open To Earn $100s Per Month
Authors

Name

Gyanendra Kumar Knojiya

Twitter
I have a couple of websites open all the time that I utilize to generate a little more money every day. I can make as much as $200 more some weeks.
I utilize these sites in conjunction with my freelance writing job, which keeps me glued to my desk for most of the day. I monitor the sites daily for fresh chances, and I'm able to make a decent living doing so.
I wouldn't advocate them as a substitute for a regular job, but if you have the time, there's enough money to be made.
1.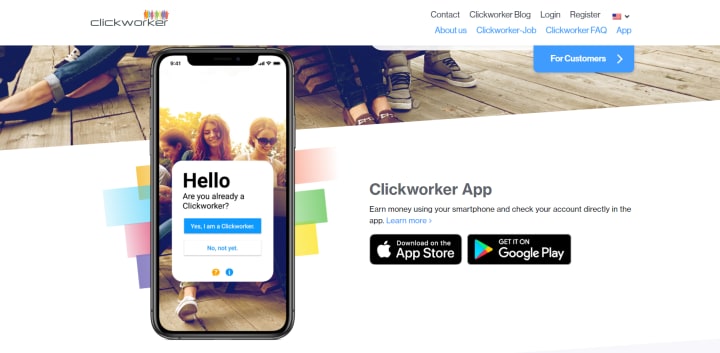 Clickworker is continuously on the lookout for Internet users across the world who can help us with tasks such as writing or editing documents, participating in surveys, or searching and categorizing data.
How it works: Signing up as a Clickworker is completely free. You work independently, have a flexible schedule, and all you need is an Internet-connected computer or mobile device. On a freelance basis, you pick when and how much you want to work.
What kind of jobs are there?
Text Creation
Categorization
Copy Editing
Proofreading
Research
Surveys
Mystery Visit
App Testing
Photo Capturing
Audio Recordings
Video Recordings
You will receive weekly or monthly payments via SEPA or PayPal.
2.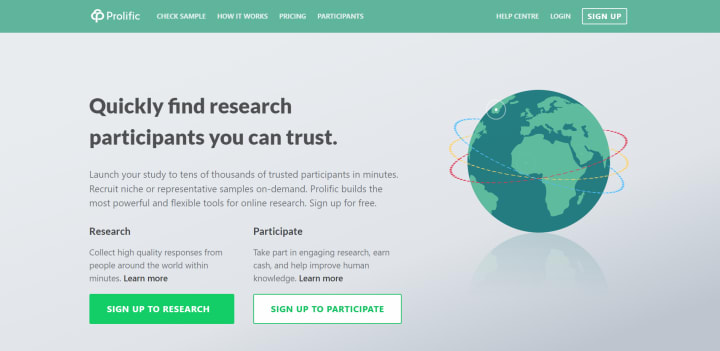 Prolific is, without a doubt, the greatest survey platform accessible. You should put Prolific ahead of all other sites. The salary is reasonable, and they make every attempt to compensate participants fairly.
Unlike other survey sites such as Swagbucks or Qmee, which pay you peanuts, Prolific surveys normally pay at least the UK minimum wage. Most nations have access to the website, so if you're not currently a member, go ahead and sign up.
You will be asked to fill up some personal information that will assist you in matching with new studies. Check back frequently since they are always adding new questions that might assist you in obtaining further studies.
Prolific is an academic research website that occasionally publishes market research findings. With durations ranging from 1 minute to 1 hour, the themes are typically highly engaging. The average wage per hour spent working on the site is roughly $10.
Because new research is published regularly, it's ideal to have the website active at all times. There is far more work on the site now than there was previously. It is simple to earn $200 every month.
3.
UserTesting is the finest side hustle money can buy; it pays well, provides fascinating work, and there's lots of it. It all comes down to delivering on-page user experience feedback for a range of companies.
People from most nations are welcome as long as they have a strong grasp of spoken English. It's critical to be able to express yourself properly to add value to organizations.
Before they let you into the dashboard and secure work, you must take a practice exam.
The number of tests you can see is determined by a star ranking system. To earn the most exams, you should aim to keep a 5-star rating. You may make a lot of money here if you are quick to accept projects.
Applying to be a contributor is an excellent method to supplement your income. Companies seeking contributors with your experience will determine the number of possibilities you receive. For every 5-minute test, you may earn 4,10 for every 20-minute exam, and 30to120 for live interviews.
4.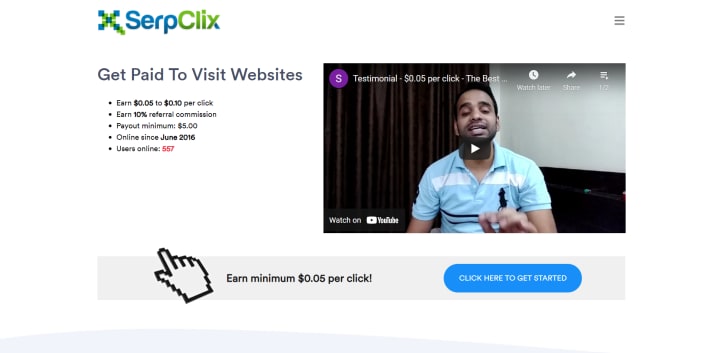 Serpclix is a platform that pays between 0.05and0.10 per click if you just Google websites and click through to their webpage. It's not overflowing with labor, but given how simple it is, it's worth keeping open.
Serpclix, which is open on my desktop, generates roughly $30–50 per month for me. They send me an email every time a new job becomes available, and I click over and wait around 90 seconds for it to finish.
As far as side hustles go, this one is inexpensive and enjoyable. It requires less energy and is ideal for folks who spend long periods of time at their work.
5.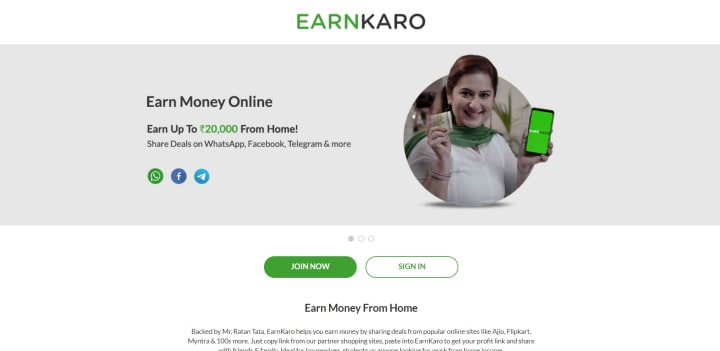 EarnKaro is an Indian website that allows you to generate affiliate links for Amazon, Flipkart, Ajio, Udemy, and a variety of other sites. You may earn a fee of 10-15% by sharing these links with others. So go ahead and sign here.
EarnKaro, which is backed by Mr. Ratan Tata, enables you to make money by posting bargains from prominent online sites such as Ajio, Flipkart, Myntra, and hundreds of others. Simply copy the link from one of our partner shopping sites, paste it into EarnKaro, and share it with your friends and family. Ideal for stay-at-home moms, students, and anybody else seeking a way to make money from home.
6.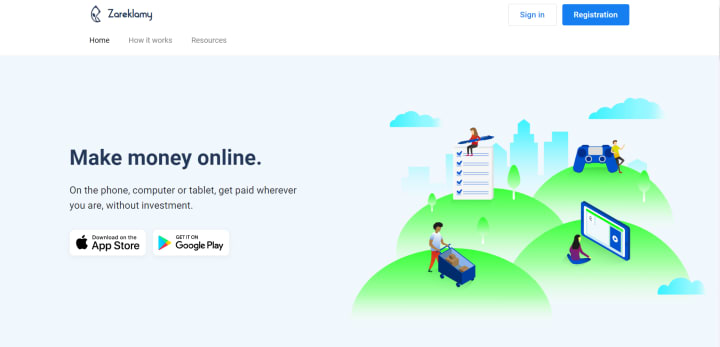 Zareklamy is full-time or part-time work for people of many nationalities. You can make money on any device that has internet connectivity, no matter where you are. You will be compensated for your time and participation on the platform.
You may make money in a variety of ways, including by playing games, doing surveys, viewing movies, purchasing online, and setting up accounts.
Simply by following easy steps, you may make up to $150 (USD) in a month - without any additional taxes or fees. Your profits, on the other hand, are unrestricted since you choose your working hours.
Conclusion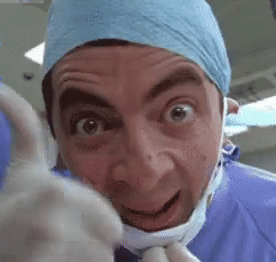 I've listed six methods to make $100 a month online, but there are likely hundreds more. I've only included moneymaking tactics that I've used effectively or those I know other trustworthy individuals are utilizing.
Any of these methods can be a great way to supplement your income. It's also possible that the side hustle you start will develop into your full-time job. That's how it's worked for me and many other people. You may become another online success story if you choose a plan and stick to it.